120ml Refill Kit for CANON Pixma PRO-100 (CLI-42)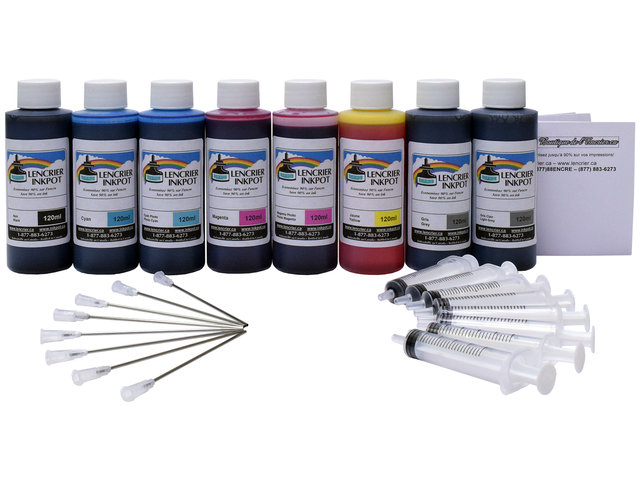 Product Number: ENC8858
Product packaging may vary.
120ml Refill Kit for CANON Pixma PRO-100 (CLI-42)
This refill kit contains enough ink to refill your CANON CLI-42 cartridges at least 9 times each.
Our compatible ink for CANON PIXMA PRO-100 printers is designed to be 100% compatible with original ink:
Very accurate reproduction of the original colours
Drying time and adhesion equivalent to the original ink
Stable and consistent ink formula
UV resistant ink that does not clog the print heads
Made in the United States
You can refill your original CANON CLI-42 cartridges. However, for easier refilling without drilling holes in the cartridges, consider purchasing our refillable cartridges for CANON PRO-100 printers.
NOTE: CANON CLI-42 cartridges have chips that show the ink levels in the printer. Therefore, refilling the cartridge will not reset the ink level displayed by the printer. The cartridge will work, but it will take the frequently out of the printer in order to check its level and when to refill it. As an alternative, we offer our chip resetter for CANON CLI-42 (highly recommended). With this device, you can reset the chips after each refilling and have accurate ink levels displayed by the printer.
NOTE: This product will also work in PRO-200 printers. The color match between the two models is close enough for the ink for PRO-100 to produce acceptable results in most cases, but for the best possible color reproduction you can install our ICC profiles for CANON PRO-200 using PRO-100 ink.
Each 120ml refill kit contains the following:
120ml bottle of black ink
120ml bottle of cyan ink
120ml bottle of magenta ink
120ml bottle of yellow ink
120ml bottle of photo cyan ink
120ml bottle of photo magenta ink
120ml bottle of gray ink
120ml bottle of light gray ink
8 syringes
8 blunt needles
Easy and detailed instructions with pictures
This kit is compatible with the following cartridges:
| | | |
| --- | --- | --- |
| Cartridges | Amount of ink for each refill | Number of refills with 120ml black and colour refill kit |
| CLI-42BK, CLI-42C, CLI-42GY, CLI-42LGY, CLI-42M, CLI-42PC, CLI-42PM, CLI-42Y | 13 ml per cartridge | Up to nine (9) refills per cartridge |
To purchase bottles individually, see our "Bulk Ink" section.
Price:
$54.99
Price:
$49.95