Refillable Cartridges for EPSON (288, 288XL) *NORTH AMERICAN VERSION*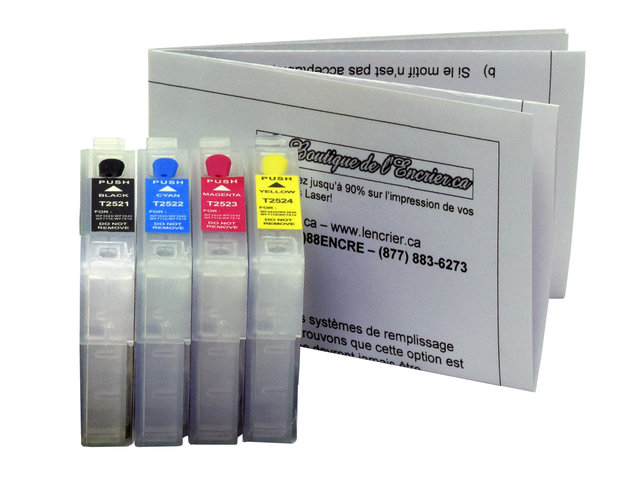 Product Number: ENC8828
Product packaging may vary.
Refillable Cartridges for EPSON (288, 288XL) *NORTH AMERICAN VERSION*
This product contains 4 refillable cartridges.
Our refillable cartridges were created to simplify the refilling of EPSON printers. Refilling InkPot's refillable cartridges is as easy as counting one, two, three. 1- Remove the cap. 2- Inject ink. 3- Replace the cap. That's all!
IMPORTANT NOTE: These cartridges are supplied with smart single-use chips that are easy to replace after each refill of the cartridges. Our single-use chips are programmed to give the same performance as the original Epson 288XL cartridges. Replacement chips are available on our website. If you print in large quantities, it would be advisable to purchase an EcoTank printer to avoid having to purchase new chips after each refill.
CAUTION: This kit is for printers from NORTH AMERICA only.
Please note that these cartridges are supplied empty. You also need to purchase ink to fill them.
This product contains the following:
One black refillable cartridge with single-use chip
One cyan refillable cartridge with single-use chip
One magenta refillable cartridge with single-use chip
One yellow refillable cartridge with single-use chip
Easy and detailed instructions
Price:
$48.95
Price:
$45.00
Price:
$11.49
Price:
$11.49
Price:
$11.49
Price:
$11.49
Price:
$64.99