Short Refillable Cartridges for BROTHER LC10E, LC12E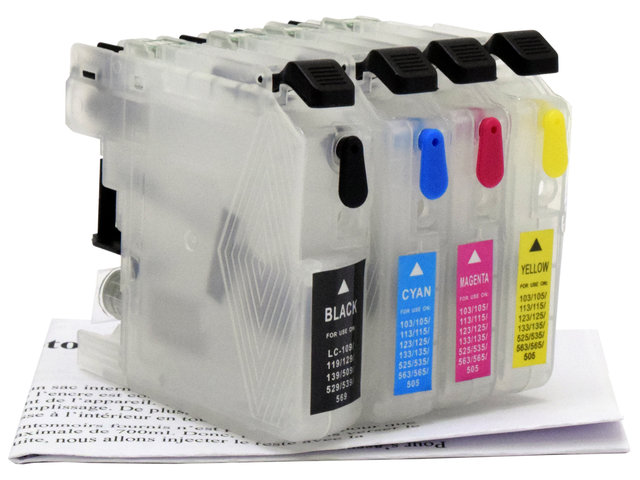 Product Number: ENC8509
Product packaging may vary.
Short Refillable Cartridges for BROTHER LC10E, LC12E
These four refillable cartridges for BROTHER LC10E and LC12E allow you to easily save by refilling them yourself!
Our refillable cartridges were created to simplify the refilling of BROTHER printers. Refilling InkPot's refillable cartridges is as easy as counting one, two, three. 1- Remove the cap. 2- Inject ink. 3- Replace the cap. That's all!
These cartridges are of the same size as the original cartridges. They can contain up to 20ml of black ink or 13ml of colour ink.
To use this product, you must transfer the chips from your four original cartridges. Our instructions will show you how.
With this product, accurate ink levels won't be displayed by the printer. However, the printer will never stop you from printing thanks to its ink sensor. If the cartridges actually have ink inside, the printer will print. Note that the cartridges are transparent, so you can always know when to refill.
The cartridges supplied with this product are empty. You will also need to purchase an ink refill kit for BROTHER printers.
This product contains the following:
20ml black refillable cartridge
13ml cyan refillable cartridge
13ml magenta refillable cartridge
13ml yellow refillable cartridge
Easy and detailed instructions with pictures
Price:
$38.95