Set of 8 220ml Cleaning Cartridges for Epson Stylus Pro 7800, 9800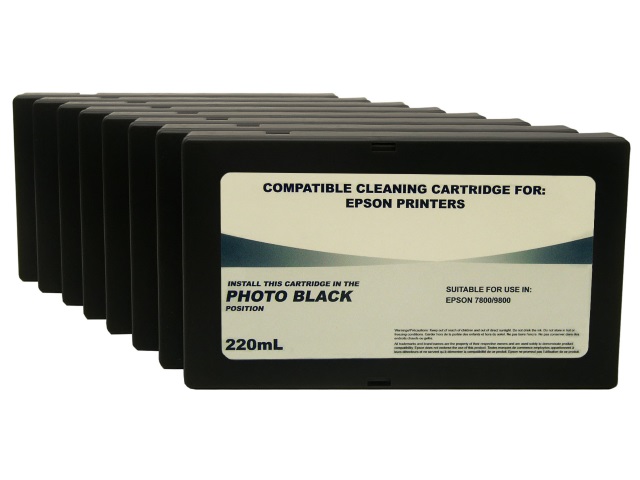 Product Number: ENC8301
Product packaging may vary.
Set of 8 220ml Cleaning Cartridges for Epson Stylus Pro 7800, 9800
These eight cleaning cartridges are used to purge old ink from the channels of an Epson Stylus Pro 7800, 9800. printer.
These cartridges are filled with InkPot's purge fluid for Epson wide format printers. Insert them into your printer and do the initial fill procedure to flush out the old ink from inside your printer.
This fluid is designed specifically for EPSON SureColor and Stylus Pro printers. It is designed with the same density and the same viscosity as the ink, allowing it to move properly through your printer's lines and print head.
If you currently use the original EPSON ink and you want to use ours (whether it's in our compatible cartridges or bottles), it is not necessary to purge the old ink with this procedure. However, if you currently use a non-original ink, but from a provider other than InkPot.CA, we recommend purging the old ink.
If you want to use a specialized ink in your printer like dye sublimation ink or our screen printing dye ink, removing the old ink is required.
Contents:
Cleaning cartridge (220ml) for Epson 7800/9800 - Photo Black
Cleaning cartridge (220ml) for Epson 7800/9800 - Cyan
Cleaning cartridge (220ml) for Epson 7800/9800 - Magenta
Cleaning cartridge (220ml) for Epson 7800/9800 - Yellow
Cleaning cartridge (220ml) for Epson 7800/9800 - Light Cyan
Cleaning cartridge (220ml) for Epson 7800/9800 - Light Magenta
Cleaning cartridge (220ml) for Epson 7800/9800 - Light Black
Cleaning cartridge (220ml) for Epson 7800/9800 - Light Light Black
Price:
$50.00