Combo (Black and Colour) Refill Kit for XEROX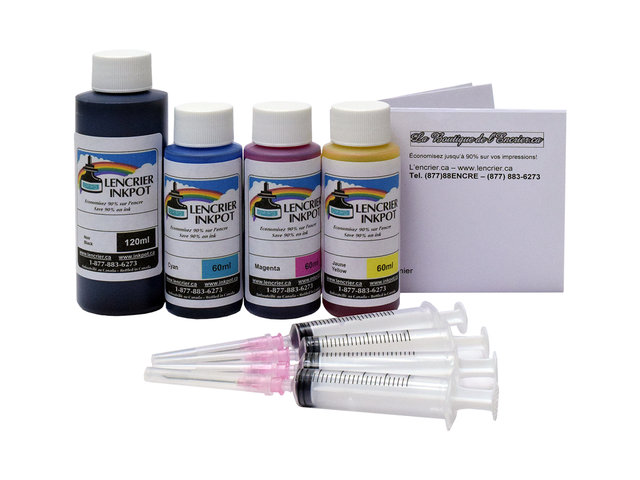 Product Number: ENC176
Product packaging may vary.
Combo (Black and Colour) Refill Kit for XEROX
This refill kit contains enough ink to refill most XEROX black inkjet cartridges at least 4 times and most colour cartridges 6 times.
Our refill kits for inkjet cartridges are quick, clean and easy to use. The ink is not universal, it is designed specifically for your printer which guarantees top quality. If you are unable to find the ink you need, use our search engine or contact us.
Each combo refill kit contains the following:
120ml bottle of black ink
60ml bottle of cyan ink
60ml bottle of magenta ink
60ml bottle of yellow ink
2 syringes
2 needles
Easy and detailed instructions (drill a hole and inject ink)
This kit is compatible with the following cartridges:
| | | |
| --- | --- | --- |
| Cartridges | Amount of ink for each refill | Number of refills with a combo refill kit |
| 8R7881, 8R7903 | 25 ml of black ink | Up to four (4) refills |
| 8R12591, 8R7880, 8R7904, 8R7979 | 8 ml each colour | Up to seven (7) refills per colour |
Don't have a drill? We sell an excellent drilling tool for inkjet cartridges.
See our selection of gloves. Click the Accessories section.