A-SUB Sublimation Paper - 110 Sheets - 11'' x 17''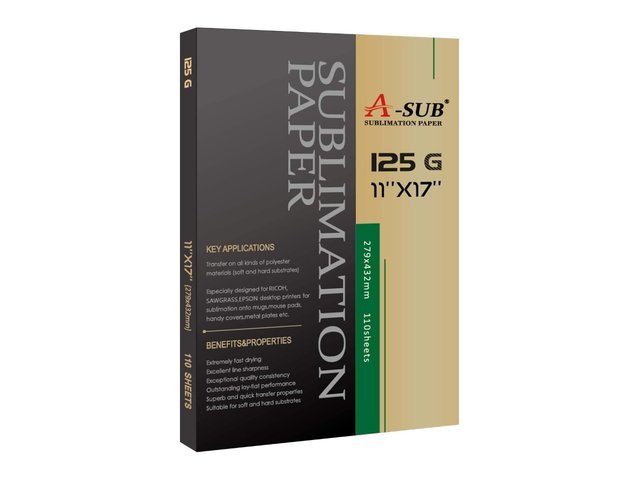 Product Number: ENC11706
Product packaging may vary.
A-SUB Sublimation Paper - 110 Sheets - 11'' x 17''
This pack contains 110 sheets of 11'' x 17'' A-SUB 125G sublimation paper.
A-SUB sublimation paper produces clean, detailed, and vibrant transfer. Use this paper with our dye sublimation ink or dye sublimation cartridges to produce various items including coffee mugs, aluminum plates, cell phone cases and polyester clothing.
This paper offers the following advantages:
Very fast dry time
Very high ink release rate for vibrant colors
Smooth without cracks or clouding
Preserves fine details
Excellent quality control
Compatible with all sublimation printers
Specifications:
Size: 11" x 17" (Letter)
Pack: 110 sheets
Weight: 125 gsm
Thickness: 6 mil (150 microns)
Price:
$39.95
Price:
$33.99
Price:
$38.99
Price:
$59.99