Refillable Cartridges for EPSON SureColor P6000, P7000, P8000, P9000 (9 colors)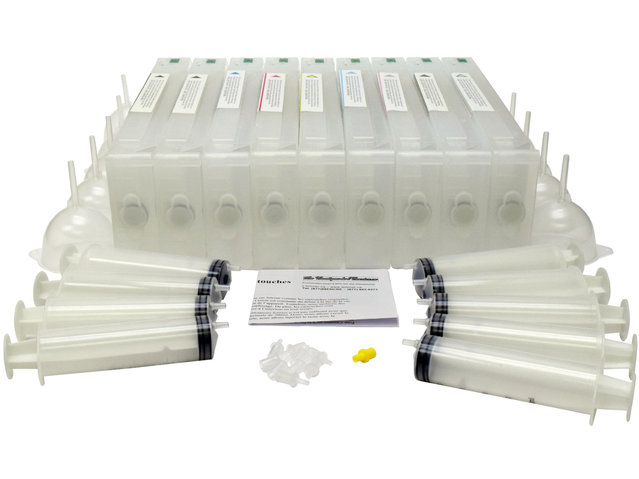 Product Number: ENC9512
Product packaging may vary.
Refillable Cartridges for EPSON SureColor P6000, P7000, P8000, P9000 (9 colors)
These cartridges are compatible with the EPSON SureColor P6000, P7000, P8000, and P9000 printers.
Price:

$454.95

Quantity

*

*Indicate your desired quantity and click the "Add to Cart" button to add this item to your cart.

Add to cart
The cartridges are easily refillable. Remove the cap and pour the ink using a funnel, then replace the cap. That's all!
The cartridges come with ready to use chips.
The cartridges have a capacity of 700ml.
Since these cartridges have single-use 700ml chips, when one of the ink levels reaches empty, you can simply remove the old chip and snap on the new single-use chip for P6000/P7000/P8000/P9000.
The cartridges are provided empty. You will also need ink to fill them.
The transparent cartridge design allows you to clearly see the ink level inside.
The cartridges have the same internal design as the original cartridges which prevent the clogging of your print heads.
This product includes:
One photo black cartridge
One matte black cartridge
One cyan cartridge
One magenta cartridge
One yellow cartridge
One light cyan cartridge
One light magenta cartridge
One light black cartridge
One light light black cartridge
9 funnels for pouring ink
9 priming syringes
Easy and detailed instructions
Price:
$399.95
Price:
$259.95
Price:
$950.00
Price:
$38.95
Price:
$69.95
Price:
$69.95