Remanufactured Cartridge for HP #792 LIGHT CYAN for DesignJet L26100, L26500, L26800, Latex 210, 260, 280 (CN709A)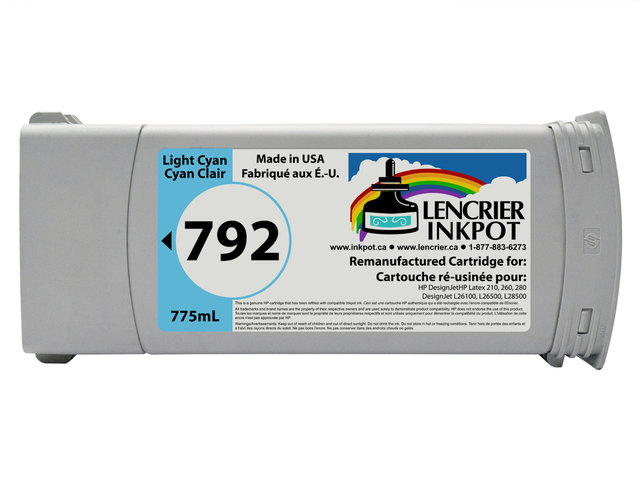 Product Number: ENC10876
Product packaging may vary.
Remanufactured Cartridge for HP #792 LIGHT CYAN for DesignJet L26100, L26500, L26800, Latex 210, 260, 280 (CN709A)
Our remanufactured ink cartridges for HP DesignJet L26100, L26500, L26800 et Latex 210, 260, 280 offer the same print quality as original inks while offering huge savings.
Price:

$109.95

Quantity

*

*Indicate your desired quantity and click the "Add to Cart" button to add this item to your cart.

Add to cart

Allow 7-14 days for delivery
Our remanufactured cartridges for HP 792 offer huge savings!
No new ICC profile is required
The ink is 100% compatible with the original
No need to flush out the old ink from the printer lines
Adheres evenly to all inkjet printing media, including glossy paper
Very durable and resistant to UV rays for outdoor use
Latex-based ink like the original
Remanufactured in the USA with ink made in the USA
This cartridge is filled with 775ml of our latex-based light cyan ink for HP 792.
Price:
$109.95
Price:
$109.95
Price:
$109.95
Price:
$109.95
Price:
$109.95
Price:
$599.95